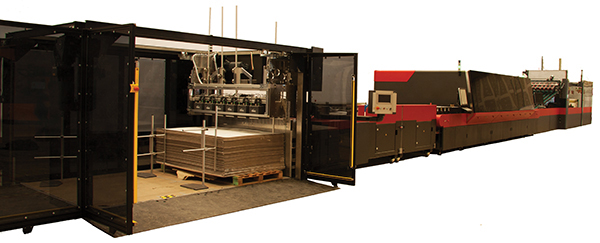 In July of this year, McGowans Print will take delivery of the Nozomi C18000, a revolutionary single-pass inkjet press that will change the print industry, not just in Ireland, but worldwide. The EFI press is capable of print speeds of 75 linear metres per minute, producing up to 7,224 square metres per hour, on substrates up to 1.8 metres wide.
Digital print has long eliminated the need for up-front makeready, plates, storage, ink mixing and all the associated labour costs, but now, with the addition of single-pass, LED, digital drop-on-demand, piezo inkjet technology, digital speeds can match and exceed litho's output.
The investment in the Nozomi C18000, McGowans largest investment to date, allows them to enter and compete in new markets, most notably packaging. Billed as a press for high speed, high quality, corrugated board production, the Nozomi is ideal for packaging and, according to owner Mal McGowan, "will eliminate the need for litho-laminate in the next two-to-three years." McGowans have made huge inroads into the cardboard market in recent years, producing huge volumes of in-store POS material, including some award winning FSDUs, and the Nozomi will help consolidate and improve their position in the marketplace.
Mal describes the press and its technology as a "quantum leap" for large format print. "This is almost disruptive in the marketplace," he says. "It's kind of frightening when you see it working, it works so fast, and the quality is unbelievable. We researched all the single-pass technology available for large format printing, and the EFI Nozomi press was the best in class by far for our applications." With much of its business centred on high-quality display graphics applications, McGowans has existing demand for corrugated display work, and many current and potential clients who would also use the company for corrugated packaging as a way to migrate away from litho lamination processes that are not economical for short-to medium-run work. According to Mal, the new press, which will be McGowans Print's first EFI inkjet product, "takes us to much longer runs and new markets that we cannot reach today with our existing digital printers."
The installation is a first for Ireland and only the second in the world, with the first press launched in Spain in April. It is expected that McGowans machine will be in full production by April 2018.
McGowans Print's new press is a breakthrough technology in the corrugated space, one that can make digital a cost-effective, profitable option for short- and medium-run production printing. It can print on materials from 14-point card stock to triple-wall board, including traditional Kemi, model, bleach and kraft materials, at full press-rated speeds. Additional features include: a 100% in-line image quality inspection system that actively manages and optimises inkjet nozzle alignment and uniformity errors; production in up to seven colours, including white (standard CMYK with optional orange, violet and white ink stations) for output in resolutions up to 360×720 dots per inch with four-level greyscale imaging; a permanent head architecture; and a fully integrated, programmable top and bottom-feed system that also handles media separation, lift, transport and alignment at full press speeds.
EFI announced the upcoming Nozomi press installation at McGowans during Fespa 2017 in Hamburg. The advanced, new EFI Fiery digital front end (DFE) that McGowans Print is installing with the press utilises the fastest, most-advanced EFI Fiery technology ever developed, providing a scalable, high volume workflow for high speed inkjet versioned, multi-SKU or personalised production applications. In addition to the new press and Fiery systems, McGowans also uses EFI software to drive its online web-to-print operations.