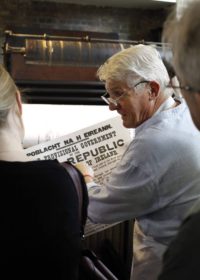 Freddie Snowe, former Press and Publishing Manager of Irish Times Print Facility, he has judged the Irish Print Awards since taking early retirement in 2008 for health reasons. Having spent over 50 years in the industry, he is a printer whose wide practical experience covers sheet-fed letterpress and offset, heatset and coldset web-offset, technical ink sales, print and production management prior to joining the Irish Times in 1986. With the Irish Times he was a regular winner at The Irish Print Awards in the 80's, 90's and 2000's. In London in 2004 The Irish Times won the highly coveted "Newspaper Printer of the Year UK & Ireland Award" at the Newspaper Production Journal Awards and also won the Best Coldset Magazine Award for 5 years (2004-2008) with the Irish Times Saturday Magazine printed in the Irish Times Print Facility, Citywest.
He has been a part-time lecturer in the School of Printing, is a City and Guilds Licentiate in Print and Paper and has given papers at conferences with PIRA in London and Dublin. A former director of the National Print Museum he is a member of the Retired Printers Chapel who demonstrate hot metal typesetting and letterpress printing at the Museum. His interests are family, golfing, motorcycle touring and photography.
At the 2011 Irish Print Awards Freddie was honoured as The Hall of Fame Laureate for his lifelong commitment and contribution to the Irish printing industry.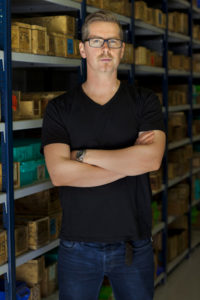 Gerard Whelan is an award winning and highly experienced brand designer with over 25 years experience. He has broad industry experience working with both national and international brands. He has headed up teams on branding projects including an international brand identity project for Johnson and Johnson and two brand identity projects for the Queen in Denmark. He has extensive experience in design for print having worked on a broad range of print projects to encompass everything from brochures, packaging, brand identity, direct mail etc.
Gerard has given talks on branding and creativity both nationally and internationally and he has lectured on design and branding at third level. He has won awards at Institute of Creative Advertising and Design, Institute of Designers, Kinsale Sharks, Summit Awards, Irish Print Awards has had work published in 14 international design publications including commuter arts and Best Practices for Graphic Designers, Grids and Page Layouts and has also has had work featured on several influential design blogs including the Die Line and Creative Review.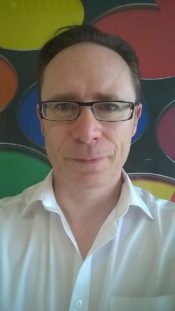 Keith Redmond has worked in the print & packaging industry in Ireland since 1991, firstly in the supply of flexible packaging materials and since 1995 in the narrow web printing ink industry with Flint Group (formerly Akzo Nobel Inks). He has also worked extensively in business development around the globe in the last number of years, most notably supporting Flint Group's business in emerging markets like South Africa and India.
Keith is currently Regional Business Director for Flint Group's Narrow Web Division, UK & Ireland,  working every day in the complex and ever changing world of narrow web labels and packaging.    
Dave O'Reilly has vast experience of the printing, packaging and publishing industries both locally and internationally in a career spanning over 30 years to date. He is an expert in conventional & digital printing technologies, digital/online publishing, workflow/process automation & systems integration. Dave has a proven track record in the implementation of high value/complex systems and has an extensive local and international contact network. Dave possesses strong business development skills, industry relevant technical expertise & has the proven vision to identify and deliver next generation solutions to our industry. Dave runs a successful business, Mediainc, which have been trusted by many of Irelands leading Media communications companies to provide the technology and service they require to ensure their businesses continue to thrive. For more information, see www.mediainc.ie
Andrew Horan, Lecturer Print and Digital Media, Dublin Institute of Technology

Darren Finn, Director, Flexographic Plate Plan

David Mahon, Managing Director, Evad IT Solutions Ltd

Ian Cairns, Print Lecturer in Graphic Design and Printing, Belfast Metropolitan College

John Charnock, Director and Owner, Print Research International

Keith Redmond, General Manager, Flint Group

Louise Reddy, Lecturer Print Design, Dublin Institute of Technology