Designed to make an impact, Antalis' stand had an American diner theme with almost everything, from the walls through to the floor and even light shades, constructed from materials that feature within Antalis' range of visual communications media. Key products that were showcased included, for floor graphics, Drytac FloorTac, Drytac ScuffGuard, Coala Event Walk and the new Coala Floor & Wall, alongside wall graphics with Drytac HiGrab, Drytac Retac and Drytac SpotOn. Visitors were also able to view environmentally-friendly hanging signage with Antacote Lite and DISPA board, and vehicle graphics with Oracal 970. The Antalis' expert team were also on hand for the three days to provide advice and support, as well as information on the Digital Academy training workshops and technical support service. The company also presented a workshop on 'the dos and don'ts of colour management'.
A key part of Canon's show offering was the collaborative approach that it takes to service provision, demonstrating how it helps customers to grow and transform business models. Among the products on Canon's stand were the Océ Arizona family, including the first showing at a UK print show of the Arizona 2280GT launched last year. Attendees were also able to experience live demonstrations on the Arizona 318 GLW system along with the artistic and imaginative capabilities delivered by Canon's wide format printers, including the ColorWave 700 and the imagePROGRAF PRO 4000 models. Canon's stand at Sign & Digital UK was also home to a bespoke applications gallery, which illustrated the possibilities of print for backlit displays and decorative surfaces.
Mimaki's exclusive UK and Irish distributor, Hybrid Services launched new small format LED UV and production direct-to-textile inkjet printers, as well as its range of solvent printers and printer/cutters, flatbed and grand format UV printers. Mimaki's new Tx300P-1800 wide format textile printer made its UK debut at the show. It offers a broad range of fabric printing opportunities thanks to its flexible ink configuration options. As capable of producing fashion or furnishings as it is soft signage, the new 1.8 metre printer's ability to run multiple ink sets, opens up a vast array of applications on man made or natural fabrics. Also making its UK and Irish debut at the show was the new Mimaki JFX200-2531 LED UV flatbed printer. A recent development of the JFX200 series, it brings compatibility with media up to 2.5 x 3.1 metres, accommodating rigid signs, wall decorations, doors and other big items. Larger media is only one aspect of its increased capabilities – the JFX200-2531 can also accommodate two 8ft x 4ft signage boards, allowing print companies to benefit from a 20% increase in productivity, keeping the printer running continuously as an 8ft x 4ft board can be loaded while another 8ft x 4ft sheet is printed. "The larger JFX200-2531 adds further productivity for those companies with a focus on rigid signage and point of sale, printing to aluminium composite and foam core boards," says Hybrid's National Sales Manager, John de la Roche. "We really wanted the opportunity to show the new version of the JFX200 off to Sign & Digital UK visitors, so they can appreciate the added capacity – and what it can offer their printing business."
InkTec's new high production Jetrix LXi8 LED-UV flatbed printer made its debut at Sign & Digital UK. The new 3.2 metre wide LXi8 was running at top speeds of over 206sqm per hour. The LXi8 also features InkTec's latest generation LED-UV ink and Konica Minolta printheads, as well as a print resolution of 1,080 x 720dpi. It can accommodate a rigid media size of 3,200mm x 2,030mm and a rigid media thickness of 100mm. According to InkTec, the new LXi8 is perfect for short-term outdoor signage, clear film window graphics, interior decoration, furniture decoration, industrial applications, industrial keypads, spot varnishing and wood prints.
Signage Suite Automates Design and Production
HP recently released the HP Signage Suite app to help automate the design and production of signage orders. The new cloud-based app has been added to its HP Applications Centre, where it sits alongside HP Wall Art, the company's cloud-based solutions, to create customised large-format applications. Signage Suite has been developed to help small sign and copy shops drive growth for roll-ups, banners and commercial posters. The product supports the full product line of HP Latex printers, as well as the HP DesignJet Z2600 and Z5600 PostScript printers. It will support additional printers in the future.  A free online tool designed for easy integration into printers' websites, Signage Suite helps boost e-commerce capabilities, including 24/7 availability to receive orders. The level of integration ranges from a basic hyperlink to a fully tailored experience. The HP Signage Suite features: three-step signage creation; 3D visualisation; pre-defined signage templates, saving the need for professional design skills; drag-and-drop for images, text, and logos; built-in access to content libraries; automated generation of print-ready PDFs; automatic job download with JDF support and PDF file versioning control; and pricing presented at checkout.
Avery Dennison Offers Graphics Training in Dublin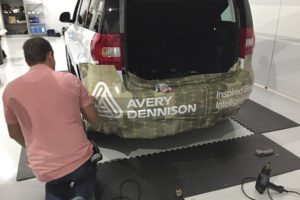 Avery Dennison re-affirmed its commitment to the graphics sector with the opening of a new training facility for European graphics professionals in Dublin last August, along with a new UK centre in Milton Keynes, which opened in Q4 2016, to help installers to fine-tune professional skills. "We are seeing strong growth in vehicle and other types of wrapping in Ireland, so a local training facility made a lot of sense," says Ronald Beij, Senior Sales Leader Graphics EU. "Centres like this one in Dublin are an extremely valuable new resource for our graphics partners across Europe. They help distributors, graphics designers, installers, and OEMs. Avery Dennison is well known for state-of-the-art training, and our specialist installer accreditation scheme means that courses at these centres result in concrete evidence of individuals' commitment and their professional abilities." Liam Hannon, Technical Support Specialist at Avery Dennison, says that the Dublin centre goes well beyond helping customers to understand Avery Dennison products and services. "Everything from basic to advanced techniques is covered here, with a mixture of classroom-based and practical training," he says. "Of course, there are real benefits in knowing more about some of the high performance materials in the Avery Dennison portfolio, so installers can widen their skill set in a business that will always depend on manual labour. We aim to help installers reduce customer complaints, and Avery Dennison Specialist Installer status is very well respected. Being able to show accreditation gives businesses new opportunities to partner in high value projects, supported by extended performance warranties." The syllabus on offer ranges from vehicle wrapping, including effective techniques for Avery Dennison Supreme Wrapping Film, through to the new Digital Cast Media products for vehicle wraps. To book a place on any of the workshops you can book directly at graphics.averydennison.eu/workshops.