Jamie Flett and Mark Needham of Rostrum Design on the flexibility of Re-board
Rostrum Design, Ireland's first independent structural design agency, recently announced that it's the official distributor for Re-board in Ireland. Described by Director Mark Needham as one of the most environmentally sustainable materials in its class, Re-board is a paper core board, engineered with a patented core (a high-density paper fiber structure tilted to 15 degrees) that gives the perfectly balanced weight/strength ratio to position paper as an alternative to other materials within VISCOM, retail and industrial applications. It's also FSC certified and the only board in its class to be LCA (Lifecycle Assessment) certified.
Re-board is 100% recyclable up to seven times. As it uses water-based glues for the adhesion of its outer liners, it doesn't contain chemicals like chlorofluorocarbons that are harmful to life and the environment. In addition, paper pulp isn't used in the manufacture of the product. "Paper pulp uses a lot of energy and has a high CO2 output. Instead, Re-board is manufactured from reclaimed paper and virgin fibers sourced from sustainably managed Nordic forests, meaning it has the lowest SO2, NOx and CO2 outputs of any paper core board. That can help contribute greatly towards the Irish government's commitment to a 51% reduction in CO2 by 2030," said Mark. With expo providers seeking more environmentally friendly materials due to legislation challenges around reducing landfill use, Re-Board is ticking all the boxes.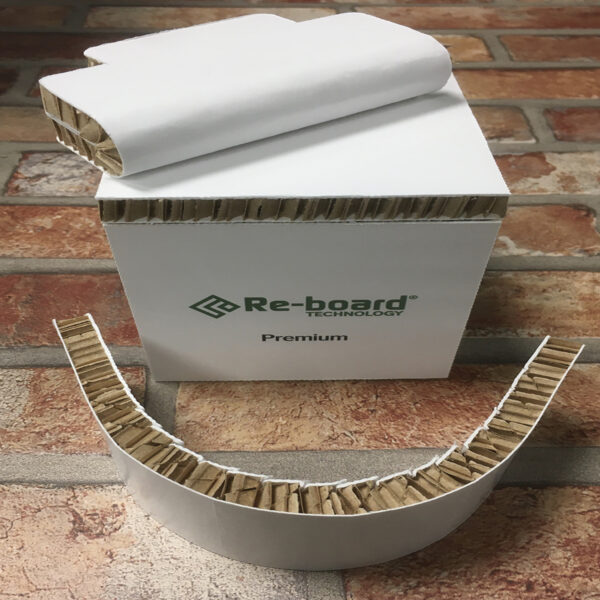 Over the past couple of years, similar boards have entered the Irish market. "Re-board is the original and the best, but I think it got somewhat lost in the mix. There were also difficulties around distribution and availability, which as official distributors we've been able to alleviate. Anyone we've spoken to in the industry is delighted that Re-board is back, not only because it's far superior from an environmental point of view but also because it saves time from a print and production perspective," said Co-Director Jamie Flett. Re-board is used extensively in retail, says Jamie. It's 80% as strong as a comparable sheet of MDF yet only 20% the weight, which translates to lower transport costs. "Re-board performs like MDF, yet it's much lighter. In sectors like shop fitouts, furniture, retail POS, signage and expo displays, Re-board really comes into its own. Material costs have also gonethrough the roof recently; Re-board is an excellent alternative to the likes of timber and plastic."
For brands that have never considered using Re-board, now might be the time to give it a go. "It's so versatile and can beused in so many different areas. We're Re-board artists; we love designing with it and we're here to help advise people how to use it," said Jamie. Rostrum Design is happy to align itself with Re-board. "The product's green credentials match our sustainability agenda very well. We recently won an award for the best Independent Structural Design Agency in Europe, an award that's very much about environmental sustainability. That award is partly due to the companies and brands that we align ourselves with and Re-Board is definitely one of those brands," said Mark.