Ballyprint's decision to invest in a new Iridesse from Xerox has led to happier customers and an opportunity to step into new creative markets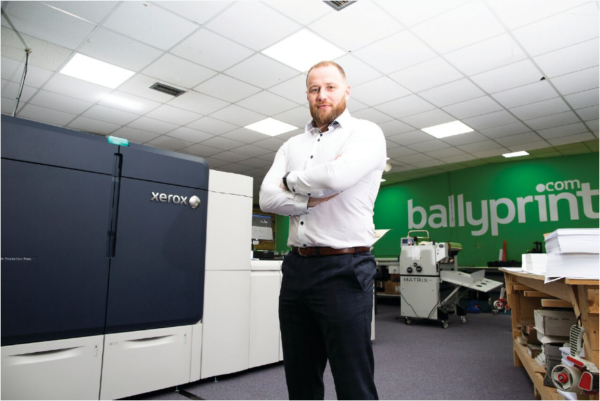 For a firm like Ballyprint that offers customers a range of services including short run spot colour work, installing a brand new Iridesse in its Ballymena facility was a great idea. After investigating a few dierent machines, Aaron Klewchuk, Director at Ballyprint decided to continue his long-standing relationship with Xerox and invest in an Iridesse. Compared to other machines on the market, the Iridesse came out on top when it came to efficiency. "Being able to move jobs from our plate press and do them digitally was a huge cost saving for us. We also have a sister company that does quite a bit of wedding stationery; they've been able to improve their offering to customers with high quality printed metallics," said Aaron.
The Xerox Iridesse is a new-generation digital press, offering inline embellishment thanks to up to six colours in the same pass. This is the first dry toner press available with six colour stations, which include metallic gold, silver, white and clear, on top of standard full colour.
Ballyprint is the first company in Northern Ireland to install the innovative colour digital production press. The installation is part of the firm's ambitious plan to grow the company over the next few years and was part of a wider investment in industry sectors like wide-format printing, label printing and job automation.
"I've been a Xerox customer for 10 years and that relationship is crucial to our business. Excellent customer service has been the mainstay of the relationship; obviously the quality of the press played a major role but the service supplied by Xerox was an equal factor in my eyes."
Intensive training from Xerox ensured Aaron and the team at Ballyprint were confident when it came to using the machine. "The training we received was very thorough and gave us a greater knowledge on an engineer level basis. Again, that care and service we received from Xerox was a major factor when it came to selecting the Iridesse."
In printing terms, the Iridesse is at the top of its class. It allows Ballyprint to offer its customers a wide variety of print applications, opening up exciting options with creative papers and embellishments in a cost efficient way, a service which would have been very difficult to offer previously. Since installing the machine, queries have been coming in from the creative sector. "We've only had the machine a couple of months but already, we've had interest from graphic designers and marketing agencies. It really is proving a game changer for us, allowing us to improve our offering to existing customers while dipping our toes into previously untapped markets."